Art. Architecture. Music. When we describe artistic creations, the two-dimensionally of words and photos can't convey the depth we feel. I'm not really one to be star-struck by celebrities, but in the presence of great works I have wobbly knees. I just didn't expect the Taj Mahal to hit me that way.
Built in 1648 AD, it's been called, "Sheer poetry in Marble." The Taj Mahal was constructed as a mausoleum for Mumtaz Mahal by her husband the Mughal emperor Shah Jahan.
Perhaps there are two ways that you might experience its grandeur: seeing minutia and imagining the scale. While there is a lot that could be said about the artistry of the tomb, a closer look at the marble inlay speaks volumes.
The craftsmen show above are in one of the many furniture shops in Agra. Here they are cutting, grinding and placing fragments of semi-precious stones. Some 20,000 workmen were employed daily at the building. It took 22 years to complete Mumtaz's tomb. Details and quote from knowindia.gov.in.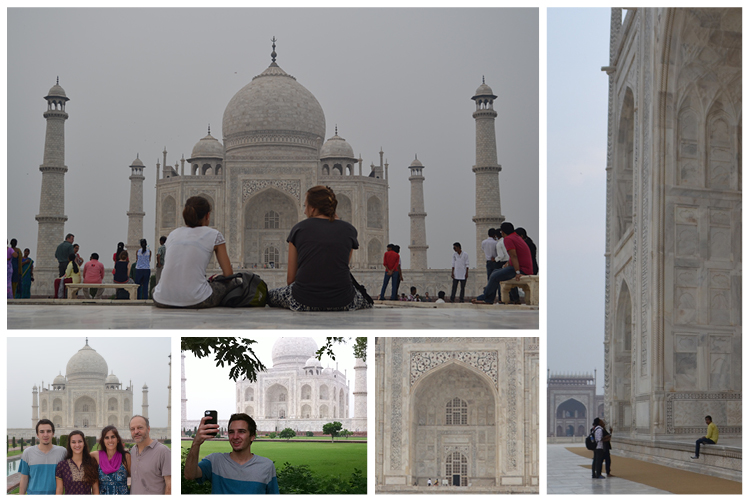 We signed up for a sunrise tour. So after a plane trip, crazy car ride (another story for sure) and late night, we were up before dawn to arrive at the Taj Mahal. There is a lot of walking through ticket booths, gates and grounds before you see the Taj. When we first saw her from the distance it was the scale that was overwhelming. Can you picture yourself standing at the entryway or sitting on the steps?