Magazine and newspaper articles
Remember the initial confusion surrounding the Affordable Health Care Act? When Obama Care first went into affect, there was so much misinformation about what it was or if you had to apply. The Parents' Resource Guide (PRG) wanted to be one of the first publications in our community to explain how families were going to benefit. Here is the article I wrote for PRG.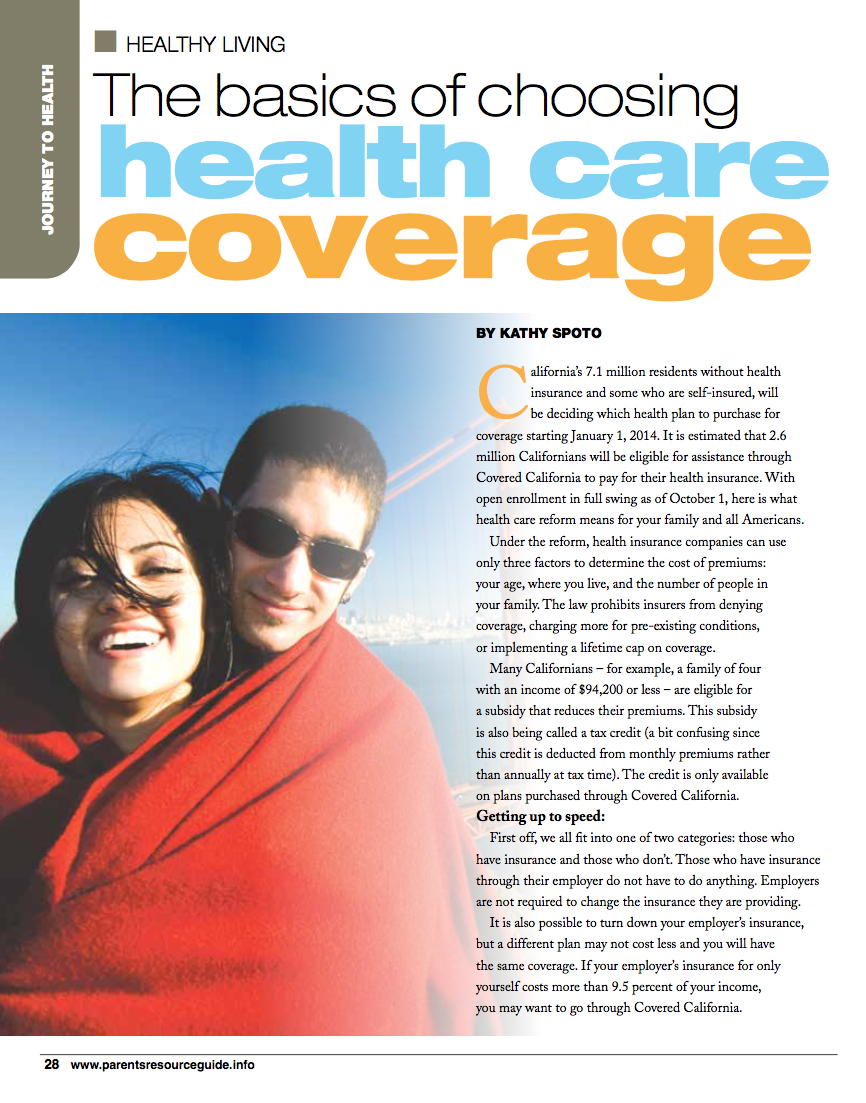 Forgive the pun, but "bite-sized pieces," is how I'd describe many of the articles I've written for the Parents' Resource Guide. Knowing our readers are parents with little free time, we wanted to make our quarterly magazine something they would keep handy in the car or on the living room table. Most articles are something you can scan and take away a helpful tidbit.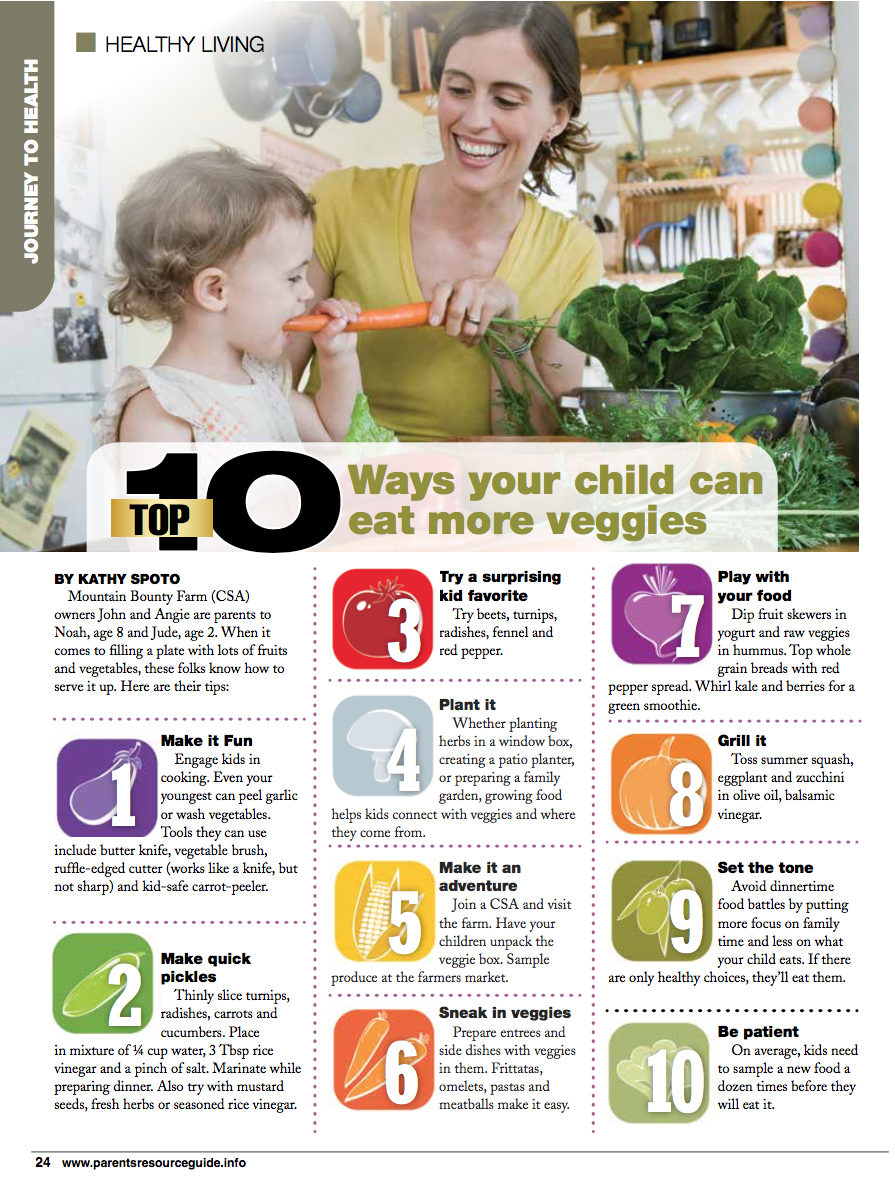 ---
Another hidden gem in the community –– a free driver-safety class designed for teens and parents. Since exiting the classroom, driver's training has shifted from school-based learning to mainly online course work. One of the great things about this class is that it provided parents and kids common topics for discussion.

---
Loomis swim school teaches tots water safety
Sea Otter Swim School offers lessons, teams, classes and parties
By Kathy Spoto, Loomis News
From ballerina kicks to superman glides, Sea Otter Swim School instructors in Loomis keep pint-sized students paddling toward safety.
"Ever since I was little I just loved swimming in water. It has just been one of my favorite things," said Lily Ferrell, 8, of Granite Bay. "It's all about having fun."
Lily has been attending the Sea Otter Swim School in Loomis since she was 2 years old. While she wants to have fun, she already knows the importance of learning to swim.
"It just gives you a head start as opposed to doing it when you're older," Lily said. "I think it's a really good swimming school."
Lily's mom, Heidi Ferrell, brings Lily and her little sister Violet, 2, from Granite Bay for weekly lessons because she believes learning water safety and proper technique at an early age is an important, as well as necessary life skill.
"They know how to work with their personalities. So, if they're a little apprehensive in the beginning, it disappears fast," said Heidi Ferrell.
Loomis parent Treva Saini, whose children have been swimming at the school for the past three years, said, "The instructors are always phenomenal and the management is good with finding an instructor that will meet your child's personality and their needs, and the kids just love it."
Saini's daughter Reena, 3, is learning stokes, kicks and holding her breath under the water at an age when drowning risks are the highest for children in the United States and specifically California.
Drowning is the number one cause of death in the U.S. for children ages 1 to 4, with the greatest risk between 12 and 36 months old according to a 2012 report by the Centers for Disease Control and Prevention (CDC). More children drown in California than any other state.
According to the CDC, for everyone drowning death, six children received emergency treatment for nonfatal submersion.
With these statistics in mind, Sea Otter instructors focus on life-saving safety skills –– giving its youngest swimmers ways to get out of danger.
"Whether it's back floating, being able to get back to the wall, being able to hop their way to safety, or climb along the side of the pool and be able to climb out by themselves," Dana Percival, Sea Otter Swim School manager, wants children ready to use these techniques in an emergency.
"We think (water safety skills are) right there with seat belts," Percival said.
Rebecca Sassenrath, who started the Sea Otter Swim program more than 30 years ago, opened the Loomis facility in 1999. Her year-round program offers classes from parent-tot through adult, an adaptive swim program, swim team, CPR training, exercise classes and swim parties. For more information, go to http://seaotterswim.com or call (916) 660-9492.
---
Swim School Sidebar
Sea Otter Swim School
What: Year-round, indoor swim facility
Offers: Lessons, CPR training, swim team, exercise classes, parties
Where: 6151 Brace Road, Loomis
Info: 530-660-9492, www.seaotterswim.com
Drowning Factors
Lack of Swimming Ability: Research shows formal swimming lessons can reduce the risk of drowning among children age 1 to 4 years.
Lack of Barriers: A four-sided fence, separating the pool from the house, reduces a child's risk of drowning 83 percent compared to three-sided fencing.
Lack of Close Supervision: Drowning can happen quickly, anywhere there is water and even in the presence of lifeguards.
Location: Most children ages 1-4 drown in home swimming pools. More than half of fatal drowning among those 15 years and older, occurred in natural water settings.
Failure to Wear Life Jackets: In 2010, the U.S. Coast Guard reported 88 percent of drowning victims in boating accidents were not wearing life jackets.
Alcohol Use: Among adolescents and adults, alcohol is involved in up to 70 percent of deaths associated with water recreation.
Seizure Disorders: For persons with seizure disorders, drowning is the most common cause of unintentional injury death, mainly in bathtubs.
Source: Centers for Disease Control and Prevention
http://www.theloomisnews.com/article/loomis-swim-school-teaches-tots-water-safety
---
Could your child have a processing disorder?
By Kathy Spoto, Parents' Resource Guide
Your child might complain that stitching on socks hurt, shirt labels feel scratchy or lettuce tastes bad. But, when this sensory information causes reactions that continually disrupt everyday activities or learning, it can signal a Sensory Processing Disorder (SPD).
From Senses to the Brain
How all people respond to their senses is a neurological process. When this process, causes a "traffic jam" in the brain, the person with SPD responses in an under- or over-responsive way. These reactions –– ranging from crying or screaming to seeming indifferent or unresponsive –– are what get the attention of parents, peers and teachers.
Here is an example. The gym teacher blows his whistle. All of his students stop, except one. This child appears to be ignoring the teacher. She continues bouncing the ball while her classmates wait for her to notice.
Under-responsive behavior
If we zoom out from the girl with the ball, we see there are two classes using the gym. Children from the other class are still running, talking, laughing, bouncing balls.
For the child with SPD, an overload of stimulus makes her under-responsive to the teacher's whistle. If this happens throughout the day, especially in the classroom, the child's behavior may be seen as inattentive, disobedient or willful.
Over-responsive behavior
What does over-responsive look like? For this child, the gym is overwhelming. The noise of kids shouting and whistles blowing is deafening. The smell of sweating bodies and rubber balls is nauseating. This child might lash out, run away, throw up or simply cry.
Expert Insights
"When sensory processing issues aren't resolved they look more and more like behavior problems," says Deborah Van Buren, OTR-L, who is a pediatric occupational therapist working with local children with sensory processing disorders. "If the child starts being excluded or disruptive, it leaves the parent thinking, my child is sweet and kind. I don't understand?"
Could my child have a processing disorder?
Some common red flags Sandi Kasting, MEd sees with local children, who have sensory integration issues, include: "A child who hasn't developed a foundation from grade to grade, has given up, feels she isn't smart enough, has difficulty relating to peers, needs a huge break before homework or accomplishes things only with someone sitting with them."
"A mother's instinct is huge," says Kasting, "Follow it until you get answers."
She advises parents to look for professionals who ask open-ended questions and look for underlying causes and patterns of behavior.
Views on Processing Disorders
Although SPD is not a new idea to many occupational, physical and speech-language therapists, it is one that has yet to be formally recognized in the medical community in the DSM, the medical journal that classifies disorders and diagnoses.
Doctors do see sensory issues as common features of spectrum disorders or a part of ADHD, but not as a disorder of
its own.
These behaviors are sometimes symptoms of other developmental delays, which can be treated through physical, occupational and even speech therapy.
Additional information
The 30-year career of A. Jean Ayres laid the groundwork for the research that Lucy Jane Miller, PhD, OTR, continues today at the Sensory Procession Disorder Foundation. Miller's book "Sensational Kids" and "The Out-of-Sync Child" by Carol Stock Kranowitz offer parents and educators information on the disorder.
---
Late Bloomer or Language Delay?
By Kathy Spoto, Parents' Resource Guide
From babbling baby to prattling preschooler, new words rapidly transform your child's vocabulary. Because speech and language skills develop quickly, seemingly small events, like ear infections can interfere with your child's development.
"The younger the child is when we start working with them, the faster they learn," explains Lisa Sheetz, SLP at the Nevada County Infant Program. "Early intervention really works. It changes the neuro-pathways of the brain."
According to the American Speech, Language and Hearing Association, studies confirm the older the child at the time of diagnosis, the less positive the outcome. This is a reason to follow up, but not be alarmed. While children pass through developmental stages in a predictable pattern, the age they reach milestones can vary greatly.
How is development measured?
Speech and language pathologists assess a child's development through articulation, receptive language and expressive language. Here is what you might notice: your child is not speaking clearly (articulation), does not respond to requests "point to the kitty or "go get your shoes" (receptive), or has difficulty sharing thoughts or feelings (expressive).
Visit pediatrician or family doctor
Your doctor may check your child's hearing and review your child's health looking for physical reasons for a delay. Before your doctor's visit, write down the milestones your child has reached (see check list). Note concerns your concerns or those of your child's caregiver. Ask your doctor about community resources for help.
Your public school can help
Free of charge, the elementary school in your district of residence is required by law to provide assistance for children age three and older. Contact the school principal or the special education director to make an appointment with your school's speech and language therapist.
If your child is entering Kindergarten in the fall, they may attend a readiness screening this spring. One of the things teachers might look for is if your child needs a speech evaluation. Ask the teacher to note any concerns. Follow-up with the school's speech teacher to determine if there is work that can be done over the summer.
---
Speech and Language Milestones
1-year-old:
Use one or more words — ma-ma, da-da,
Respond to own name
Respond to simple requests – wave bye, bye
2-years-old:
Points to objects when asked
Say several single words by 15-18 months
Use phrases by 18-24 months
Use two- to four-word sentences
Follow simple instructions
Repeats words heard in conversations
3-years-old:
Understood by family and caregivers
Produce vowel sounds and p, b, m and w in words
Repeat without being frustrated
4-years-old:
Understood by others
Understood by family and caregivers
Correctly produces t, d, k, g, f sounds
Repeat without being sensitive
5-years-old:
Understood in all situations by most listeners
Correctly produce most speech sounds
Repeat without showing frustration