Blog Posts
Guest Blog for the Outside Inn
by Kathy Spoto
Here are my top five things to do with kids in Nevada County on a sunny day. First up, pull on your cowboy boots and gallop over to Purpose Ranch.* Wranglers welcome visitors to make friends with 26 rescued horses. Call for best time to visit.
Get on your bike and ride at Nevada County Fairgrounds. Hill town living makes learning to ride a bike challenging; but, the benefits extend into your child's problem-solving abilities. Enter at gate four and bring a helmet.
Commune with nature on Rock Creek Nature Trail. Strap on baby and peace out on this three-quarter mile loop of forested bliss.
All aboard the NCNG Railroad Museum. If your preschooler loves everything with wheels, the narrow gauge railroad museum is a must see. Trains mixed with eager docents, local history and free admission.
Be a tourist at the Empire Mine. Take in the century-old gardens while kids toddle along paths. Listen for frogs at the reflecting pool, explore machinery and find the moon rock in the mineral exhibit.
Kathy Spoto is a writer who works for the Parents' Resource Guide. Become a fan of the Northern Gold Country Parents' Resource Guide Facebook page for more local information for families.
© InnSide Nevada City, photos by Kathy Spoto
*I'm sorry to see the Purpose Ranch is no longer in operation.
---
Social Media for The Parents' Resource Guide
The Parents' Resource Guide (PRG) initially hired me to write articles and ads. From there, I helped edit and proofread the magazine. Then I also took on the role of social media coordinator.
In print for more than 20 years, The (PRG) built a strong presence in the community. My task was to grow our connection to families and advertisers by creating the Facebook, Instagram and Pinterest pages for the magazine.
Meeting families and working with advertisers made it easy to create content. Here are posts that linked parents to articles back on the magazine's website, advertiser information and community events.
---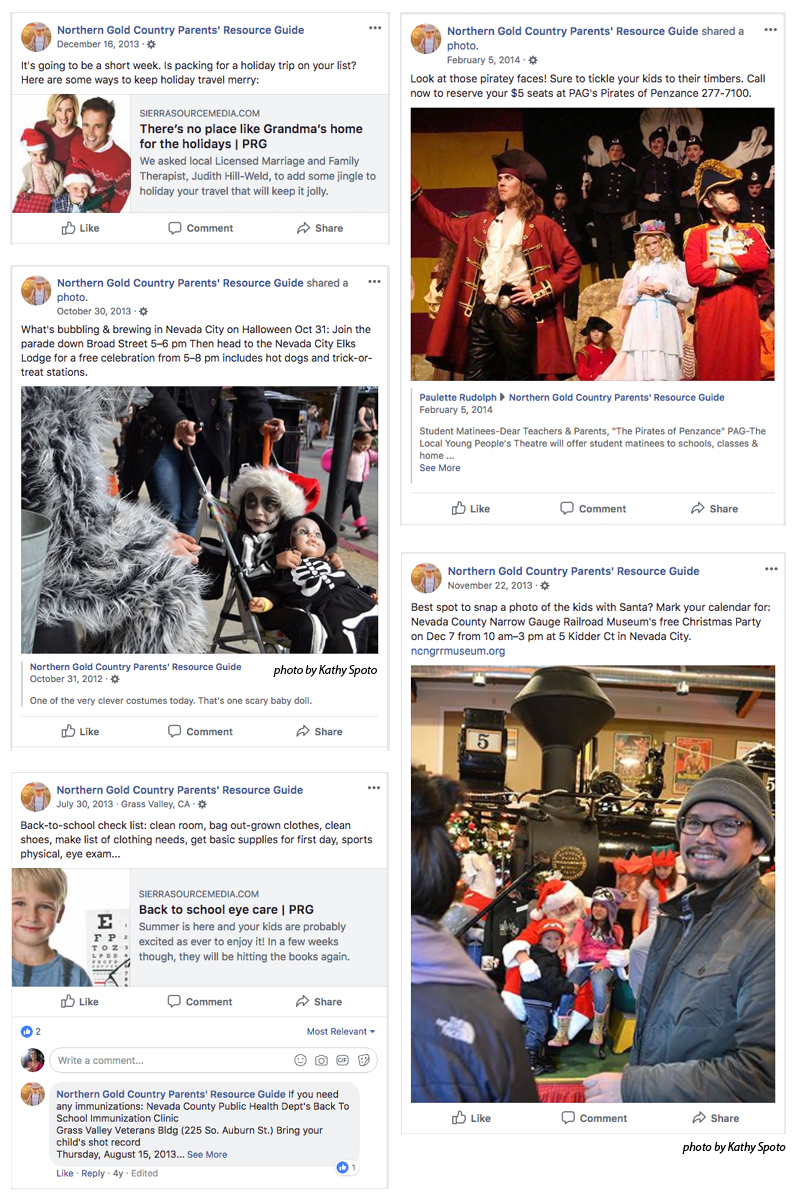 ---
Connecting with business owners and families makes social media a really fun job.  Does it get much better than a day filled with taking photos of babies and then writing posts about it?

---
Constant Contact Sample
The basics of good writing and clean design always count. The who, what, where, when and why need to be easy for readers to find. I'm not sure how long you spend reading newsletters these days, but I'm sure it's in the less than 2-minute category for me.